Security Mission Information & Innovation Group (SMIІG) 2018
February 1-2, 2018, Brussels, Belgium
Security Mission Information and Innovation Group (SMIIG) held, as in previous years, a two-day event in Brussels to discuss future appeals for 2018 of "Horizon-2020" program in the area of "Secure Societies" researches. This brokerage event is a unique network platform for stimulating innovative ideas and contributing to the creation of consortia.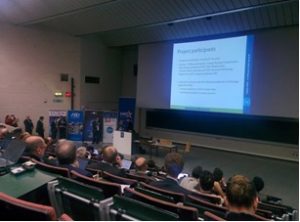 All subjects of the direction of safe societies were presented Deputy Director for Scientific Work, Dr. Sci. (Tech) Chemeris O., Assistant Director Kotsyuba I. and Researcher Makarevich O. have participated in the event as a delegation of experts of the Georgy Pukhov Institute for Energy Modeling of the NAS of Ukraine. The issues of risk analysis, information security, cyber security of energy and other industries were discussed. In particular, interest was raised by the use of the block chain technology in the information security in industry.