The Winter School for students, graduate students and teachers of universities participating in the ALIoT project was held in Chernivtsi from 10 to 12 February 2018 and continued in Yaremche from 13 to 17 February 2018. The team of George Pukhov Institute for Energy Modelling consisting of team leader Dr. Sci. (Tech.) Chemeris O.A. and graduate students Sergei Sushko and Alexei Nasteca took part in the Winter School.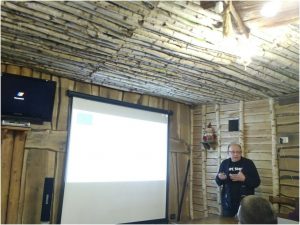 Reports were made on the works related to optimization of energy consumption of microprocessor IoT systems and block chain technology in connection with cyber security of IoT systems.
From the NCP "Safe Societies" of the European Development Program "Horizon-2020" Dr. Sci. (Tech.) Chemeris O.A. made a presentation of the new work program for 2018-2020. in the direction of "Safe Societies" Horizon-2020. The results of the international meeting in Brussels, which took place on February 1-2, 2018, were also presented.
The Winter School noted the successful implementation of the ALIoT project and excellent presentations of all project teams.