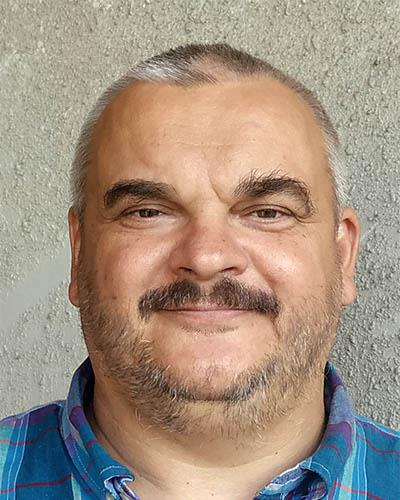 Davydenko Anatolii

Scientific Degree: Doctor of Technical Sciences
Academic Status: Senior Researcher
Position: Leader Researcher
Contacts: Georgy Pukhov Institute for Modelling in Energy Engineering, National Academy of Sciences of Ukraine, 15, General Naumov St., Kyiv, Ukraine, 03164
tel. +38(044)424-91-63, +38(067)250-53-14
e-mail: davidenkoan@gmail.com, davydenko@ipme.kiev.ua
Participation in scientific and public organizations:
Member of the editorial board of the scientific publication Modeling and Information Technologies of the Institute of Modeling Problems in Energy. G.Ye. Pukhov NAS of Ukraine.
Member of the international organization IEEE since 2009.
Manager of a virtual organization for mathematical modeling in energy problems MatModEn
Qualification:
Kyiv Institute of Civil Aviation Engineers, Kyiv, specialty "Automated Systems", qualification "System Engineer", (1981-1986);
Candidate of Technical Sciences in the specialty "Elements and devices of computer technology". Dissertation topic: "Development of specialized computing devices based on structural correction of number bit models", (1990);
Senior researcher in the specialty 05.13.06 "Progressive Information Technologies" (2001);
Doctor of Technical Sciences, specialty 05.13.21 "Information Security Systems". Dissertation topic: "Methods and models of adaptive protection and delimitation of access to distributed information resources", (2021).
Research interests:
Mathematical modeling and analysis of information threats in automated systems of different classes;
Examination of software and hardware subsystems of protection in computer information processing systems with limited access;
Design of critical infrastructure management systems based on a risk-based approach;
Development of architectural and functional requirements for information security in distributed and high-performance computing environments;
The use of artificial intelligence methods in the construction of information security.
Bibliometrics:
more than 180 published scientific works, including collective monographs, articles in domestic and international professional publications, materials and abstracts of reports at conferences, copyright certificates and patents;;
profile in Researcherid
profile in Publons